Gator bites off arm of Kanapaha exec
By Katy Ciotola
Sep 24, 2002
An 11-foot long alligator tore the right arm off the longtime director of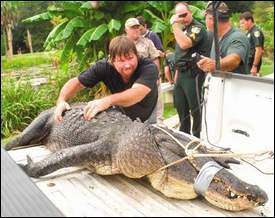 Kanapaha Botanical Gardens in Gainesville as he weeded a pond there Monday afternoon.

Don Goodman was walking in the lower pond of the water lily garden at 4700 SW 58th Drive when the alligator bit his arm off from just below his elbow, said Justin Lagotic, spokesman for Alachua County Fire Rescue.

Goodman then screamed for his nearby co-workers.

"We just heard him call out my name," said Barbara Bennett, a gardener there. "Don was walking up out of the water holding his arm. He was covered in blood."

Another gardener at the park, Ron Collins, tore off his shirt and wrapped it around Goodman's arm, Bennett said. They radioed the receptionist to call 911 and then wrapped Goodman in blankets.

Bennett said Goodman told her he didn't know the gator was nearby until he felt his arm twist.

Goodman remained conscious and got onto the stretcher himself, Bennett said. Before he was taken to Shands at the University of Florida, he was able to make arrangements with other employees to take care of business at the gardens.

Another gardener, Gabe Duclos, went to find the alligator that had swallowed Goodman's arm.

"I heard Barbara's frantic voice telling Mary to call 911," Duclos said. "I ran up and . . . I saw his arm was missing."

Duclos said he fired about 10 shots at the alligator but missed as the gator slipped back underneath the water.

Officials from Alachua County Fire Rescue, Alachua County Sheriff's Office, the Florida Alligator Trappers Association and the Florida Fish and Wildlife Conservation Commission spent more than an hour trying to find and capture the alligator, which was acting aggressively, said John Duncan, an officer with the Fish and Wildlife Commission.

Trappers harpooned the male alligator and brought it up on the bank, Duncan said. Authorities shot the alligator and slit his stomach open, finding Goodman's arm inside.

Officials put the arm into a red plastic bag and took it to Shands at the University of Florida. Surgeons were unable to reattach the arm, Bennett said. Goodman was in serious but stable condition Monday night, hospital officials said.

Whether an arm can be reattached depends on many factors, including its condition and the person's age, said Hudson Berrey, professor and chief of orthopedics at Shands at Jacksonville.

If an arm sits in an alligator's stomach for too long, its condition may be affected because the stomach has digestive acids in it to break food down, Berrey said.

The alligator will be brought to the Gainesville Research Lab for a necropsy to find out what else was in its stomach, said Capt. Roy Brown with the Fish and Wildlife Commission.

Although Duclos said it was necessary to kill the gator, he was still sad about it.

The gator, called Mo-Jo by employees, was a star attraction at the gardens, Duclos said.

"He was king of the domain for a while," Duclos said. "People came to see him."

Mo-Jo crawled over to the water lily pond from Lake Kanapaha in the spring, officials said. There is still at least one other gator in the pond.

Signs scattered across the grounds warn people to watch out for alligators.

Duclos speculated that the attack was a case of mistaken identity. The gator probably felt Goodman's hand brush by him and reacted, Duclos said. This is the first alligator attack at the park, employees said.

The Fish and Wildlife Commission has recorded 300 alligator attacks since 1948 with a dozen fatalities, according to an April 2002 story by the Lakeland Ledger. One recent attack was on a 69-year-old man swimming last month in the Withlacoochee River with his dog. The man, who was bitten on the head, survived the attack.

Kanapaha Botanical Gardens is a 62-acre park between Kanapaha Lake and Archer Road. The property, which is owned by Alachua County and is maintained by the North Florida Botanical Society, is open to the public.

Goodman, who lives in Archer, has been the director of the gardens since 1978. He is a well-loved person in the community, employees said.

"He is a wonderful person full of energy," said Mary Guy, a volunteer. "He is practically a walking encyclopedia of knowledge. He and his wife have worked so hard to get these gardens in good shape."
---
---
BACK to Animal Attack Files Index
Tell a Friend about the Animal Attack Files