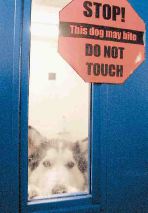 Calgary Herald
A malamute that went on a violent biting rampage in February will be euthanized by animal services officials, a court commissioner ruled Thursday.
A nine-year-old girl and an 11-year-old boy were among five people attacked by Kimo, a 11/2-year-old malamute, on Feb. 28.
The dog left varying degrees of bites on the victims, including one woman who needed 31 stitches to close a huge gash left by the purebred family pet.
"I find that the animal, Kimo, is dangerous and ought to be destroyed," ruled traffic court commissioner Ian Baird. "I have to err on the side of public safety."
Cara-Lynn MacIntosh, 9, Matthew Reimann, 11, Ryan Summerhays, 15, Joyce Nilsson, 45, and Betty Rodenbush, 74, were attacked by Kimo during the early-morning rampage in the northeast communities of Taradale, Martindale and Falconridge.
Kimo has been in quarantine in the city's kennels since the attacks. He will be put down on Tuesday unless his owners, Danny Taphorn and Helen Demassi, launch an appeal of Baird's ruling.
Demassi left the courtroom in tears after the dog was ordered destroyed.
Defence lawyer Tom Stepper said it is unlikely the pair will challenge the decision as they don't want the dog to stay behind bars any longer.
During Thursday's testimony, the court heard Kimo may have been drugged with the stimulant ecstasy before he went on the rampage with another dog named Dakota.
Edwin Murrin, who is in jail for an unrelated matter, testified he was taking the illegal drug while staying at the Taphorn residence.
"I took one hit the night before and I left another hit on the table. I woke up the next morning and it was gone," said the heavily tattooed inmate, who was shackled and dressed in prison blues.
Taphorn's neighbour, 16-year-old Krystal Clarke, said Murrin used to live at their house and had fed one of her six dogs ecstasy while she watched.
"After (he) fed him ecstasy, (the dog) went nutty and we had to tie him up in the backyard," said Clarke.
When asked by Crown prosecutor Pamela McClusky what she did to prevent Murrin from giving the dog the drug, the teen shrugged. "I couldn't do anything. What was I supposed to do?"
Baird rejected the ecstasy defence, saying none of the animal experts who testified Thursday could confirm that Kimo ingested the drug.
J.C. St. Louis, a former Calgary police dog handler, said the dog would have been panting heavily, drooling and shaking if it had consumed ecstasy. When animal services officers apprehended the pooch at Taphorn's home, it did not display abnormal behaviour.
St. Louis, who told the court Kimo was a prime candidate for euthanasia, was attacked by the dog when he tried to examine it at the city kennel.
"After I dealt with him, I had no doubt he was a very dangerous dog with a short fuse," said St. Louis.
The biting spree wasn't the first time animal services officers had picked up the dog for running at large.
On Feb. 7, Demassi was caught in an on-leash area with the two dogs not on leads. When approached by animal services officer Leon Yasinski, "I was told where to go and how to get there."
On Feb. 20, Kimo was picked up by bylaw officers for running at large.
Along with Kimo being ordered destroyed, Demassi and Taphorn were fined $600 for allowing their dogs to run at large and five counts of allowing their dog to bite a person.