Peanut-size jellyfish kills Briton
by Frank Thorne in Sydney
01 February 2002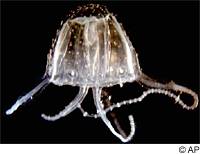 A British man holidaying in Australia has died two days after being stung by a thumbnail-sized jellyfish.
Richard Jordan, 58, was swimming with his wife off Hamilton Island in Queensland when he brushed against the Irukandji jellyfish.
Mr Jordan, from Driffield, Yorkshire, sought medical attention after being stung on Tuesday since he was concerned about his heart condition. He went into a coma and was airlifted to hospital where he died yesterday afternoon.
Susan Boyd, spokeswoman for the Hamilton Island Resort in the Whitsundays, said the sting aggravated Mr Jordan's heart condition and high blood pressure-leading to cerebral haemorrhage. A post mortem examination will be conducted to determine the exact cause of death.
The beaches on the island remained open but guests were advised to swim in the pool.
Irukandji syndrome causes waves of intense aches all over the body, severe cramps, nausea, vomiting, fever and anxiety. Scientists are working on an antidote but are hampered by a lack of funding. Zoologist Dr Jamie Seymour, of James Cook University, said: "The amount of painkillers that a person in severe Irukandji pain gets from doctors is similar to someone that's been in a near fatal car crash."
Dr Seymour said if the death proved to be the result of Irukandji syndrome, it would be the first such death anywhere in the world. "It's incredibly significant," he said. "It's the sort of thing we've been saying for a while - that these animals have the potential to kill people."
Little is known about the peanut-sized stinger, whose tentacles may be up to one metre long. Mr Jordan's death follows something of an epidemic of jellyfish stings this Christmas in the region, as unusual weather has driven the jellyfish towards Queensland's beaches.
© Associated Newspapers Ltd.
---
BACK to Animal Attack Files Index
Tell a Friend about the Animal Attack Files