Boy, 10, bitten on leg by shark near West Palm Beach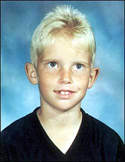 Corey Brooks, 10, was attacked by a shark Sunday and received 125 stitches to close the 8-inch wound on his right calf, officials said. (AP Photo)
By Associated Press, 06/09/02
JENSEN BEACH, Fla. -- A shark bit a 10-year-old boy in the leg Sunday as he played in shallow surf off the Atlantic Coast, authorities said.
Corey Brooks was in stable condition after receiving 125 stitches to close the 8-inch wound on his right calf, said Connie Brigg, spokeswoman for St. Mary's Hospital in West Palm Beach.
Corey, his baby sitter and her children were at the beach on Hutchinson Island, about 39 miles north of West Palm Beach.
After he was bitten, Corey ran out of the water crying, said Lt. John Recca of Martin County Fire-Rescue. "The boy said he thought someone pinched him," he said.
The gash went to the bone, but Corey was able to move his leg and toes, Recca said.
Beach-goers were ordered out of the water for a couple of hours, but no one else saw the shark, Recca said.
There were 76 unprovoked shark attacks in the United States last year -- 37 in Florida -- according to the International Shark Attack File at the Florida Museum of Natural History in Gainesville.
© Copyright 2002 Boston Globe Electronic Publishing LLC
BACK to Animal Attack Files Index
Tell a Friend about the Animal Attack Files