Bear mauls 2 backpackers
1st attack on a person since 1971 in Rocky Mtn. Park
By Coleman Cornelius
Denver Post Northern Colorado Bureau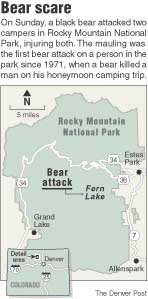 Tuesday, July 15, 2003 - A ranger warned Patrick Finan and his friends about black bears when the group arrived at Rocky Mountain National Park for a two-day camping trip on Saturday.
So, Finan and four fellow campers took precautions. They suspended their cooking utensils, food and trash between two trees 50 yards from their campsite at Fern Lake and kept no food in their tents pitched in the backcountry.
But early Sunday morning, an aggressive black bear, apparently on the prowl for food, slashed through Finan's tent and the nearby tent of his friend Tim Schuett as the campers slept. The bear chomped Finan on the forehead, leaving deep puncture wounds, and slashed Schuett twice across the head with its claws, slicing him to the skull.
"I was awakened by a bear taking a bite out of my head. It hurt, but I didn't know what was happening for a few seconds. I was bleeding extensively and started screaming, 'There's a bear!"' Finan, a 22-year-old Boulder resident, said as he recovered at home Monday. He had about 20 stitches in his forehead.
Finan's screams scared away the 250-pound, cinnamon-colored bear, but the bruin headed for Schuett's tent as the second man continued to sleep.
"I woke up to look up and see a bear paw on my head. I quickly rolled and turned away, but I received severe lacerations from his claw strikes. He hit me twice," said Schuett, 23, of Glen Ellyn, Ill., near Chicago. He had 30 staples in his skull.
"I could have been killed Sunday morning," said Schuett, who is staying with a friend in Denver.
Park rangers Monday set a barrel-shaped trap for the bear, designed to ensnare but not injure the animal, and planned to euthanize the bear once it was captured, said Kyle Patterson, park spokeswoman.
The bear ambled into the forest after its victims started screaming, the campers said. But an hour after the attack, witnesses spotted the same bear striking a food-storage container at another campsite in the area, indicating the animal has lost its natural fear of humans and had become dangerous.
"Because of the aggressive behavior of the bear, we will euthanize the bear," Patterson said. "It's very apparent that this is a very aggressive bear and one that needs to be removed, unfortunately."
The state's largest national park closed backcountry camping sites in Odessa Gorge, the area surrounding Fern Lake, where the attack occurred, and urged hikers to stay away. Officials also closed the Wild Basin unimproved trail, in the park's southeast corner, after reports of unrelated bear activity.
The mauling marked the first bear attack on a human in Rocky Mountain National Park since 1971. That year, a male bear dragged a man from his tent near Grand Lake and killed him. The victim was on a honeymoon camping trip with his wife. The bear was destroyed.
More than 21,000 people camp annually in the park, yet just two bears have been relocated in the past two years because they were nuisances, and the park has not trapped and euthanized a bear for dangerous behavior in recent memory, park officials said.
Elsewhere in the state, there has been a sharp rise in the number of bears killed by landowners and wildlife managers in Colorado in recent years because the animals have become threatening to people who increasingly live and play in bruin habitat.
A total of 12 people were injured by black bears in Colorado in 2001 and 2002; the last confirmed human death caused by a black bear was in 1993 northwest of Canon City, according to the Colorado Division of Wildlife.
Wildlife experts blame people for most of the threatening encounters: Bears are omnivores that usually steer clear of humans, but they can become dangerous after they've grown accustomed to easy meals taken from trash, poorly stored camp food and other human sources.
Finan and Schuett, experienced backpackers who consider themselves highly bear-aware, said they were baffled because they did everything experts suggest to avoid a hazardous encounter.
They prepared a camp supper of spaghetti away from where they pitched their backpacking tents, then cleaned up and double-bagged their trash and food before hanging it between two trees.
Still, the bear ripped into their tents.
Not until after it wandered back to the woods did the campers, bleeding profusely, begin to understand the gravity of what had happened, they said.
"I'm counting my blessings, and everyone I've talked to is shocked," said Finan, a research assistant in the University of Colorado psychology department. "This is an unfathomable, freak incident that will definitely leave some lasting marks and some lasting stories to tell. I still can't believe it happened."
Another camper in their group used a cellphone to call for help.
Two ranger paramedics arrived in just over an hour.
After being treated, the two wounded campers were in good enough shape to hike about 4 miles out of the backcountry and got more thorough medical attention - including dozens of stitches and staples and the first in a series of rabies vaccinations - at a hospital in Estes Park.
"We knew going in that, yeah, there was the risk of bears. I didn't think ahead of time that it would be a reality," said Schuett, a recent communications and marketing graduate from the University of Dayton. "I thought, 'This is the worst I've ever been hurt, and this is the most blood I've ever seen, and it's all mine."'
Yet the two said they'll return to the mountains to hike and camp.
"I love going into the wilderness," Finan said. "I'm definitely not going to stop."
BACK to Animal Attack Files Index
Tell a Friend about the Animal Attack Files