East End owl on prowl
By Harriet Arkell, Evening Standard
April 14, 2003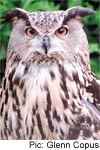 One of the world's largest owls is loose in London and police are warning residents it could be dangerous.
Jazz the European eagle owl escaped from his owner on Saturday while being exercised in an east London park.
Now on his third day of freedom, Jazz, who is 20 inches tall and has a wingspan of 6 feet, may be hungry and police have taken the unusual step of warning the public about him.
"We are telling people not to approach him because he could be dangerous if threatened," a Met spokesman said. "When the bird becomes hungry it may try to hunt small animals such as rabbits, cats or small dogs."
Jazz's owner Mark Triphook, 43, lost the dark brown owl in Valentines Park, Ilford. Mr Triphook, a firefighter with Red Watch in Barking, said: "I was putting him on his 100ft leash when something must have disturbed him and he just flew away. I called him and followed him for a bit but he just kept flying. I've never flown him like that before because my wife has always said he might escape. Now it seems like she was right."
The father of four bought Jazz four years ago when he was two weeks old and keeps him as a pet with a barn owl named Jolson.
He added: "What you do is get them hungry so that when you release them they will fly back to the food - a day-old dead chick usually - on your glove. Sadly he didn't do that. Owls like Jazz will eat anything they can get their claws into. They like hares and rabbits but he might go for rabbits or even a small terrier."
Jazz was last seen flying towards Ilford town centre.
A year ago, an escaped European eagle owl terrorised ramblers in Yorkshire for weeks before being caught and earned the nickname the "Beast of Ilkley Moor".
© Associated News Media
BACK to Animal Attack Files Index
Tell a Friend about the Animal Attack Files