Boy Savaged by Pit Bulls
August 21, 2003
By Nic North
A BOY of seven narrowly escaped death after being mauled by two American pit bull terriers.
Frankie Knowlden had climbed into a neighbour's garden to retrieve a football.
Dad Matthew managed to prise him from the dogs' jaws.
He said: "If he had been there another 30 seconds he would have been killed - they would have torn him apart." Matthew, 33, of Minster, Kent, heard the dogs "screaming like a pack of wolves" on Tuesday.
He said: "They had pinned Frankie to the fence. One had its jaw on his arm and the other had his head and was shaking him like a rag doll.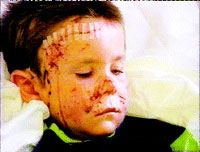 MAULED: Frankie in hospital yesterday after hours of surgery
"He was covered in blood and was being ripped apart. He had a 10in gash to his face and puncture marks all over his body."
Frankie is "stable" in hospital in Chelmsford, Essex, after three hours of plastic surgery to his face.
It is believed the dogs had escaped from their steel enclosures in the garden.
Police said they had no powers to remove them because the owner had taken "reasonable" steps in the way they were kept. But Matthew plans to sue and is angry that they were not destroyed.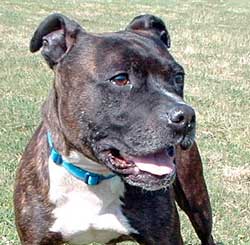 VICIOUS: A pit bull terrier
In a separate incident, John Smyth, 47, had plastic surgery yesterday after being attacked by two bull mastiffs in Dunkeld, Perthshire.
Mr Smyth, of Farnborough, Hants, said: "I saw the owners coming towards me. They must have known their dogs were dangerous.
"The big one was pulling on its owner and as soon as it saw me it just went berserk. It came straight at me. It just wouldn't let go of my arm. Then it went for my back."
The second dog joined in but was dragged off by its female owner. The male owner finally managed to release the other dog's grip and it ran off
Mr Smyth, who had deep cuts in his arm and back, is in hospital in Dundee.
Police were last night hunting the dogs' owners.
BACK to Animal Attack Files Index
Tell a Friend about the Animal Attack Files